The brightest and longest-lasting bike light designed for your pocket.
1.​ Never ride in darkness again
​1.1.​ Fits In Your Pocket
You will never have to worry about having your bike lights stolen again. You can carry them for hours without even noticing. The first bike lights designed to be carried in your pocket along with your phone and wallet.
You are able to ride wherever you want and have the peace of mind that your lights are safe in your pocket. 
​1.2.​ Easily Removed
You will be less annoyed when you park your bike in public. You will be able to quickly pack up and down your bike. The lights slide off from the strap easily and quickly.The silicone handlebar mounts stay on the bike so you only carry the expensive part.
​1.3.​ Automatically Turns Off
Do you ever forget to leave your lights on and then come back to find out that they are flat? Never return to your bike again and find out your lights are flat.
After two minutes of no movement, bunc lights turn off. Once you move them again they automatically turn on.
We call this the "Intelligent Sleep/Wake" feature.
​2.​ You Will Be Seen
​2.1.​ Narrow Beam
A single high-power LED projects a single beam of light both lighting the path up in front of you and enabling you to 'be seen'.
​2.2.​ In-Built Reflector
The in-built reflector adds an extra layer of safety if you forget to charge your lights. 
​3.​ You Can Do More
​3.1.​ Minimalist
Own less stuff. Go from bike to skateboard and use the same light.
The same clip that mounts onto your bike can be clipped to your shirt for running, skateboarding or any other activity. 
​3.2.​ Waterproof IPX6
bunc lights can be used in any storm you can ride through. They have a waterproof rating of IPX6, meaning they can handle direct blasts from high-pressure jets. 
​3.3.​ Five Modes
A mode for all different riding situations including daytime.
| | | |
| --- | --- | --- |
| Mode | Lumens | Run Time |
| High Constant | 80 Lumen | 3 hrs |
| Low Constant | 40 Lumen | 4.5 hrs |
| High Flash | 80 Lumen | 18 hrs |
| Low Flash | 40 Lumen | 35 hrs |
| Daytime Flash | 80 Lumen | 29 hrs |
​3.4.​ USB Rechargeable
Save the environment from disposable batteries! Re-charge your bike lights instead. Micro-USB recharge port similar to most Android phones pre-2019. Micro-USB Cable included. 
​4.​ You're Supporting the Cycling Community
​4.1.​ We support not-for-profits
Feel good knowing that a percentage of profits go to bicycle related not-for-profit organisations. By buying bunc lights you are helping make bike riding even safer in cities like Melbourne!
​4.2.​ Founded By Cyclist 'Solopreneur'
By buying bunc lights you are supporting a solo cyclist entrepreneur from Melbourne, Australia who is 100% positive the world would be a better place if everyone rode a bike. 
​5.​ The 'Nitty Gritty'
​5.1.​ Technical Specifications
Model: bunc 'be seen' Front Light [Narrow] 
Model No: [bBS-FLN1]
Light Angle: Narrow 25° Spotlight
Max Visible Angle: Over 220° 
Max Lumen: 80
Minimum Lumen: 40
Light Found Distance: Over 1000m
Weight: 41 grams
Fitment: Standard bars/seat posts 22-27 mm 
Waterproof Rating: IPX6
Battery: Built-in Lithium-Ion 700mAh
Charging: Micro-USB 5V/0.5A 
​5.2.​ Included
1x Light
1x Strap 
1x Clip
1x Micro-USB Cable
​5.3.​ Dimensions
Light Only: 41 x 41 x 17 mm
Strap with clip: 120 x 20 x 15 mm
Combined: 120 x 30 x 49 mm
6. Ready to Ride?
6.1 Stoked Guarantee
We know you will be stoked with never having to worry about riding home in the dark again. If you aren't, return your lights within 60 days for a 110% refund.
AND
6.2 Strap Replacement
If your bike gets stolen in the first year of owning bunc lights and the mounting straps get stolen too but you still have your bunc lights, we will send you a new set of front and rear straps for free! 
6.3 Get in before we run out!
As we are still pre-launch, we are only carrying small batches of stock so we will run out soon!
​

Customer Reviews
04/08/2020
Barry A.
Australia
I recommend this product
Front and rear bike lights from bunc
What an awesome product. Light and bright. Easy and secure to attach to bike.Great packaging too.
Great to hear Barry! Thank you for your review.
08/06/2020
Liz R.
Australia
I recommend this product
bunc lights
Amazing - these lights are brilliant; as advertised super light, not bulky and bright! bunc was very quick to process and send my order, and great customer service. Would (and have) recommend!
Wicked Liz! Stoked you love how compact and bright they are! We loved sending out your order so that you could join the bunc heads. Be seen, Daniel.
19/04/2020
Lorenz C.
Australia
I recommend this product
Light For Everyone!
Have both the front and rear lights for more than a week now. I gotta say that it does the job well! Mostly riding early before sunrise to go to work, and both lights perform more than required. The amount of light is enough but not "too" out there screaming "i have a light on." The waterproof feature hasn't been put to test in real conditions, but sprays from cleaning my bike seems to be fine. Overall, i could say that this could be the light that every bike should have, having it easily removable means i can go to the trails without much fiddling and just put the lights on my pocket or bag. This is the same when i park the bike outside work. Superb item!! Definitely recommended!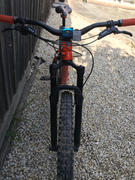 Thank you for your review Lorenz! We love that you are getting out at sunrise riding to work and then hitting the trails too! I am sure there will be plenty of rain coming up in the Melbourne winter to give the lights a good "waterproofness" test. As long as the USB plug is in, they can take any storm or puddle you can ride through! Keep up the riding, Daniel.
01/03/2020
Dennis S.
Australia
I recommend this product
Small and compact lights
I installed the Bunc lights on my mountain bike in minutes so easy. The lights handle the rough terrain really well great lights for any use. Highly recommend these lights.
Hey Dennis! Awesome to hear that you are using them on your mountain bike and that they are holding up well. Keep it up! Ride safe, Daniel.
29/02/2020
philip
Australia
I recommend this product
best lights
Good lights. I really enjoy the sleep/wake function. Just really easy to use bright lights. enjoy it all year around!
Hey Philip, thank you for your review. Cool that you like the sleep/wake function. We will keep that in mind for future product developments! Ride safe, Daniel.